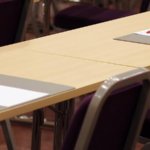 Client Education
An informed client makes for a better client and our client like to be in the know. We hold educational presentations throughout the year to help empower our clients when it comes time to make important decisions that impact their financial future. 
Some of the classes we provide are:
Retirement Planning
Psychology of Retirement
Long-Term Care Planning
Estate Planning
Medicare Enrollment
Budgeting
Finance
Identity Theft Protection
Reverse Mortgages
Economics and Markets
In addition to these publicly available classes. Townsend offers employer educational events. Townsend works with human resource directors to provide on-site financial education where we highlight the various approaches and important elements of living a financially responsible life. For more information on organizing a presentation for your company, department or group of colleagues, please contact our Events & Communication Manager, Savanna Brown, at Savanna@TownsendRetirement.com.