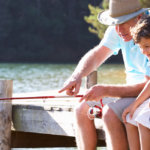 Townsend Screaming Eagles Motorcycle Club
Townsend has numerous clients who ride motorcycles, president Jeff Townsend included! Clients are always interested in planning rides to different destinations and being able to meet other clients. If you are interested in becoming a member of the Townsend Screaming Eagles Motorcycle Club, please contact Savanna: Savanna@TownsendRetirement.com.
Upcoming Motorcycle Rides:
May 20th | 8:00 A.M.
June 7 – 10th | Long Ride
July 15th | 8:00 A.M.
August 19th | 8:00 A.M.
September 16th | 8:00 A.M.
---
Please let Savanna know if you plan on riding with us, therefore we don't leave anyone behind. As always the ride depends on the weather.
Contact information and ride maps are sent via email. If you will be riding with us this year, please send your current email address to Savanna@TownsendRetirement.com so that we can keep you posted on the status of the rides.
Click here to download a PDF of the riding guidelines.
Click here to download a PDF on motorcycle safety from the Colorado Department of Transportation.
MCrider releases a new video every Friday focused on riding and safety tips for every skill level. Be sure to check it out! www.mcrider.com
Advisory services are offered through Townsend & Associates Inc., dba Townsend. Financial Advisors of Townsend are registered representatives of and offer securities through Securities America, Inc., Member FINRA/SIPC. Townsend and Securities America, Inc. are not affiliated. Privacy Statement | © 2021 Townsend
The BBB has determined this business meets BBB accreditation standards, which include a commitment to make a good-faith effort to resolve any consumer complaints. BBB-accredited businesses pay a fee for accreditation review/monitoring and for support of BBB services to the public. BBB accreditation does not mean that the business's products or services have been evaluated or endorsed by BBB, or that BBB has made a determination as to the business's product quality or competency in performing services.
Check the background of this firm on FINRA's BrokerCheck.
Please review Important Disclosure Information set forth in the last section of this web site