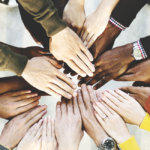 Community Involvement
As one of Colorado's financial services firms, Townsend has a commitment to improving and sustaining our local communities. Townsend is proud to support organizations working to strengthen our communities. Through the efforts of our Townsend team volunteers and our contributions, we share our success within the community by giving back to nonprofits like The Salvation Army, A Precious Child and educational institutions such as Front Range Community College. If you are ever interested in volunteering with Townsend, please contact us for upcoming opportunities at Savanna@TownsendRetirement.com.
---
7Everyday Hero Award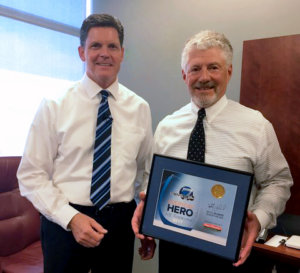 The 7Everyday Hero Award is presented to Coloradans who are making a difference in their community. Congratulations, Jeff Townsend!
 The 7Everyday Hero Award is issued by the Denver 7 News to Coloradans who are making a difference in their community. There were no fees paid for this award and clients were not consulted. The award was presented to Jeff Townsend to acknowledge the charity and generosity of the Townsend Foundation. For more information, please visit https://www.denver7.com/news/7everyday-hero Third-party rankings and recognitions are no guarantee of future investment success and do not ensure that a client or prospective client will experience a higher level of performance or results. These ratings should not be construed as an endorsement of the advisor by any client nor are they representative of any one client's evaluation. 
---
Townsend Business Scholarship
For most Front Range Community College students, college is not an assumption, but an aspiration. For many, financial assistance is essential. Yet each year FRCC Foundation must turn down almost 80 percent of the applicants asking for scholarship aid because there is just not enough money.
The fact is, Colorado families are struggling. Laid-off workers are seeking retraining, and few students can afford the exorbitant tuition costs of a four–year institution. Unfortunately the state's education budget has seen significant reductions, and federal and state financial aid sources are also dividing. More and more individuals are depending on the FRCC Foundation scholarships to attend college.
The FRCC contributors are people who care deeply about the importance of higher education. Support from companies, individuals and the surrounding community makes college education accessible for deserving, driven and capable students. These students display a true commitment to education and a strong desire to better their lives, but lack the financial resources to pursue their dreams of a higher education. Today, since the Foundation's inception, more than $4 million in scholarships, grants, and program assistance has been awarded to thousands of students as well as faculty and staff members.
The FRCC Foundations scholarship awards are part of a comprehensive program — not just a financial transaction. The scholars of the FRCC are a part of something much larger that extends beyond graduation. This foundation has been named that Scholarship Success Program and is recognized as a "real difference maker" toward helping students go to college, stay in college and graduate. The main goal of the Scholarship Success Program is not simply to ensure that each Scholar earns a degree. The ultimate objective is to be certain that every FRCC Foundation Scholar is positioned to begin a productive career in their community upon graduation.
The Townsend Business Scholarship demonstrates a belief in, and commitment to, the positive impact Front Range Community College is making in the students and our local community. We are honored to be a part of an investment that provides much-needed financial support directly to individual students that need it most.
---
The Salvation Army
William Booth, the founder of The Salvation Army, was a special type of person, dedicating his life to helping individuals in London who were considered outcasts of society — the homeless, the hungry, the poor and the destitute. Because an army can do more than individuals working independently, these social and spiritual visionaries have joined forces to form an elite group known as the William Booth Society. Jeff Townsend and wife Cayle Townsend became members of the George Scott Railton Circle of the William Booth Society in 2007, one of the most prestigious donor organizations.
It takes a special type of person to give of one's self to make life better for others. Jeff Townsend is one. He is someone who is always looking for ways to give back to the community and help those in need. Jeff makes it a priority to make sure The Salvation Army is always involved in the company's big events. Townsend puts on an annual client conference where we ask all clients who attend to bring perishable items for The Salvation Army. Come winter, we pair up with other local businesses, organizing a coat drive. As an industry expert and top financial advisor, Jeff Townsend has received several awards. With these awards, Jeff can receive a plaque or make a donation in his name to the charity of his choice, and Jeff always asks for a donation to be made out to The Salvation Army. Recently, Townsend received an award from The Salvation Army for Doing The Most Good through various contributions.
Like the founder of The Salvation Army, Jeff Townsend sees the potential to change the world by redeeming the lives of the lost. The time, effort and contributions made by Jeff Townsend empower the Army to provide life-changing programs and services in other local communities. Townsend believes that every life changed is a shining victory, a victory that expresses compassion and commitment. As a team, we feel blessed to be given the opportunity to make the difference in the world. On behalf of the Townsend team, Jeff Townsend has inspired us to bring new hope, fresh beliefs and shine the light on those in need. Through Jeff Townsend's various charitable efforts, we have learned to become an army of salvation. To learn more about The Salvation Army, visit their website.
---
Wish For Wheels | Beesley Bike Build
Beesley Bike Build 2021
Wish for Wheels is a 501(c)(3) nonprofit organization that gives brand new bicycles and helmets to kids in low income communities. Founded in 2004, their first giveaway made it clear that the bikes bring health and happiness into students' lives and for that reason this organization is committed to making a difference. The unique model bundles corporate philanthropy, team building, and employee engagements through bike builds, to deliver brand new bikes to kids in the community. They are successful thanks to the generosity of corporate partners and volunteers in the community.
In 2021 Officer Gordon Beesley was ambushed in Arvada for being in law enforcement, wearing the badge, serving and protecting our community. During the service, Pastor Jim Burgen said: "Go home and love your family better. Love your wife. Dance in the living room. Listen to your kids with understanding this time. Bring fresh flowers home. Play music. Drink wine. Laugh more. BUY A KID A BIKE. Find the balance between order and mercy" — it was in that moment that Beesley's Bike Build was born. Moving forward this annual event will be in honor of Officer Gordon Beelsey.
Townsend will adopt a low income, Title I school every year, leaving behind a "Beesley Station" street sign for the students to remember who is there to encourage and support them in building a daily healthy lifestyle.
---
Colorado Fallen Hero Foundation
The Colorado Fallen Hero Foundation is a 501(c)(3) non-profit organization made up of Colorado law enforcement officers and civilian personnel who serve in a voluntary capacity.
When a line of duty death occurs, the Colorado Fallen Hero Foundation can assist, support, and provide resources for a host agency in their effort to serve the deceased officer's family based on their needs and wishes. Their presence allows agency members to participate in honoring their colleague without the pressure of funeral planning, allowing them an appropriate time to grieve. Planning a line of duty death funeral while handling the associated investigation and the routine of the everyday call load can overwhelm any agency. CFHF's team of professionals integrates with agency personnel to assist with funeral planning to whatever extent the family and the agency desire. Horan & McConaty donates their services and provides a casket or an urn at no charge. Over the course of the last 30 years, H&M has donated their services for nearly 30 public safety officers. Additionally, John Horan provides consultation services to the organization regarding process and ceremony.
In addition to providing line-of-duty death response and memorial planning, the CFHF is proud to provide peer support and mental health resources for agencies that do not have access to such resources. In partnership with Dr. Sara Metz and Code 4 Counseling, they are able to deploy a team of trained public safety peer support professionals anywhere in the state to assist agencies dealing with a line-of-duty death. They understand the impact such a tragedy has on an agency and a community and want to ensure that they are taking care of their fellow officer and family. CFHF's services are provided at no cost to the agency or the family because of community support.
Here at Townsend we feel honored to support their mission by sponsoring their annual gold tournament and gala. In addition, Townsend puts out Fallen Officer campaigns, matching 100% of all donations made by clients.
---
Wounded Warrior Project
Wounded Warrior Project® (WWP) serves veterans and service members who incurred a physical or mental injury, illness, or wound, co-incident to their military service on or after September 11, 2001 and their families. On that date, America watched in horror as approximately 3,000 people died including hundreds of firefighters and rescue workers. Many warriors note a sense of duty to volunteer for the military following these tragic events.
Sept. 11 also served as a stimulus for Operations Iraqi Freedom, Enduring Freedom, and New Dawn. Operation Iraqi Freedom refers to military operations in Iraq that began March 19, 2003 and officially ended August 31, 2010. Operation Enduring Freedom refers to combat operations in Afghanistan and other regions in support of the Global War on Terror. Operation New Dawn refers to the conclusion of operations in Iraq beginning September 1, 2010 and ending December 15, 2011.
Townsend Retirement Specialists has become a donor to the Wounded Warrior Project in hopes of making a difference in those who served on the battlefield. If you are interested in learning more or making a contribution to the Wounded Warrior Project, please visit their website.
---
A Precious Child — Supporting Children in Colorado
The number of children living in poverty has grown faster in Colorado than anywhere else in the nation. The 2010 Kids Count in Colorado report found the number of Colorado children living at or below the federal poverty level has risen 72 percent between 2000 and 2008 and the number of children in Colorado public schools eligible for free or reduced lunch grew by 38 percent in 2007. Ensuring that children are properly clothed and have the necessary supplies to participate in school can have a dramatic effect because it helps children stay in school, promotes learning, and encourages self-esteem.
Townsend Retirement Specialists has been a sponsor of A Precious Child since 2009. To learn more about how you can become involved with A Precious Child, visit their website.
---
Tunnel to Towers Foundation
At Townsend, we're devoted to showing up for those who boldly show up for us. Therefore, we have partnered with the Tunnel to Towers Foundation. This organization is committed to ensuring we never forget the events of 9/11 and the sacrifices that were made and continue to be made by our first responders in the line of duty. Through the Fallen First Responder Home Program, Tunnel to Towers aims to pay off the mortgages of fallen law enforcement officers and firefighters killed in the line of duty that leave behind young children. The Foundation's goal is to ensure stability and security to these families facing sudden, tragic loss.
---
The Wild Animal Sanctuary
The Wild Animal Sanctuary offers an incredible 10,500+ acres of natural habitats for its rescued animals to enjoy… and is home to more than 600 rehabilitated animals. They have three facilities which represent the largest carnivore sanctuaries in the world, and are designed and built like no others in existence. Everything about their three facilities are designed to ensure the animals' welfare remains top priority, even with the numerous modern comforts they provide our guests. We believe that The Wild Animal Sanctuary have become true pioneers when it comes to creating large acreage natural habitats for our animals to live in… and have also built the World's longest elevated footbridge just so visitors can see the animals without putting undue pressure on them like zoos and other ground-based displays do. Learn how our "Mile Into The Wild" walkway has changed the way animals are viewed – and how its 1.5 miles of elevated bridgework provides unwavering protection to hundreds of Lions, Tigers, Bears, Wolves, Leopards and many other rescued large carnivores.
---