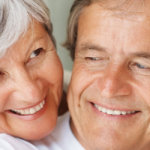 Lifetime Income Solutions
From Accumulation to Distribution: Cracking Open Your Nest Egg
Everything changes on the day you retire. That's when you have to turn your savings into a sustainable retirement income. Knowing how much you can safely withdraw and from which accounts without depleting your money in your lifetime is imperative.
An often overlooked aspect of retirement is the sequence of returns you'll experience in retirement. With it comes a great deal of risks!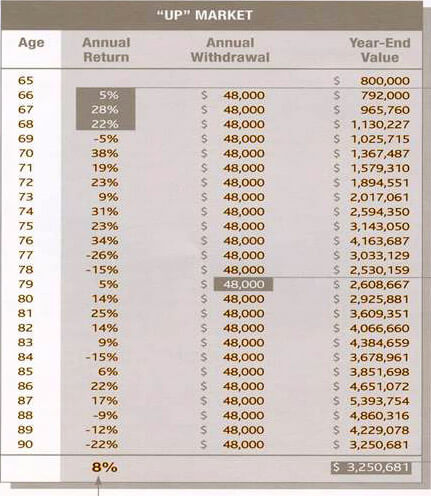 The above illustrates a 65 year old couple beginning retirement with an $800,000 account. They withdraw $48,000 per year through 25 years. The market provides positive returns for the first three years. The following years have both positive and negative years and averages 8% over the 25 years. Even though the market is negative over the last 3 years the couple are able to sustain their $48,000 per year withdraw rate. They started with $800,000, they withdrew $1,200,000 over the 25 years and have an ending balance of over $3,250,000. Not bad! However, what if the sequence of returns were reversed?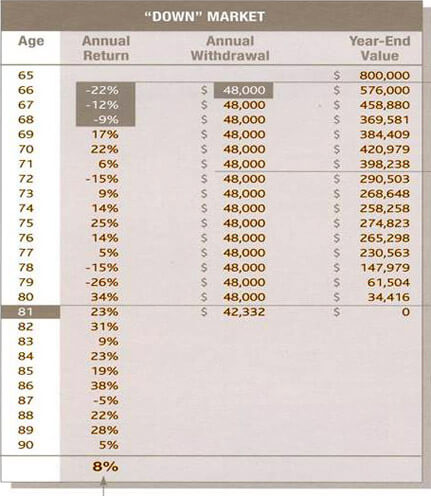 As you can see, by reversing the sequence of returns has a very different outcome. Both examples have the same 8% average rates of returns however the couple deplete their monies in 16 years.
When it comes time to crack open your retirement nest egg it's important to have a withdraw strategy. Your Townsend advisor can help you develop your winning strategy!
PLEASE SEE IMPORTANT DISCLOSURE INFORMATION.
Please Note: No portion of the video content should be construed by a client or prospective client as a guarantee that he/she will experience the same or a certain level of results or satisfaction if Townsend is engaged, or continues to be engaged, to provide investment advisory services.